36" Serp Top P2
includes 48" base
Die Dimensions:
36"L x 6"W x 24"H
Base Dimensions:
48"L x 12"W x 6"H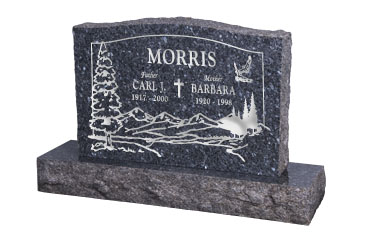 All Memorial Prices Include:
Free Shipping to Anywhere in the Continental U.S.

(Shipping to Alaska and Hawaii For An Additional Charge)

Proof of Layout
Sales Tax Included
Ten Color Choices
Large Selection of Styles and Sizes
Unlimited Lettering
Large Clip Art Gallery to Choose From
Custom Design Layout
Large Selection of Artwork
Additional Options and Costs
Custom Artwork
Ceramic Photo Tiles
Rush Production Service
Expedited Shipping
All Multi-Piece Monuments and Benches are shipped unassembled, unless requested. The cost of factory assembly is $100

*Prices do not include cemetery setting fees.

Prior to placing your order be sure to:
Check with the Cemetery for Headstone Specifications. CLICK HERE to for suggested questions to ask when you contact the cemetery.
Pay Cemetery Setting Fees, when applicable; our prices do not include cemetery fees.
Coordinate with Cemetery for delivery and obtain a shipping address.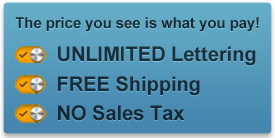 Our family couldn't be happier
- Lance B. from Haslet, Texas.
Available Colors and Pricing
Other colors and sizes are available as a custom order. Please call for details.